5 Days In Japan (winter) | Tōhoku, Japan
Welcome to my visual diary of the Tōhoku, North Eastern Japan. Proudly hosted by @VisitJapanAU
DAY 1 - Matsushima & Naruko Onsen-Kyo Area
After visiting the three temples above we were fortunate enough to try out the local Matsushima Fish Market (Oyster BBQ House). I don't eat fish at all, so i struggled to try and find something on the menu & ended up with yummy ramen with pork.
Kokeshi Doll Painting & Making
What is a Kokeshi Doll?
Kokeshi (こけし, 小芥子 kokeshi), are simple wooden dolls with no arms or legs that have been crafted for more than 150 years as a toy for children. Japanese dolls, originally from the northeastern region (Tōhoku-chihō) of Japan. They are handmade from wood, have a simple trunk and head with a few thin, painted lines to define the face. The body often has floral and/or ring designs painted in red, black, and sometimes green purple, blue or yellow inks, and covered with a layer of wax. One characteristic of kokeshi dolls is their lack of arms or legs. Since the 1950s, Kokeshi makers have signed their work, usually on the bottom and sometimes on the back.
The Passion
Watching this Master of Making & Painting Kokeshi Dolls was an experience that will not be forgotten, the traditional workshop and studio that was setup was a phenomenal site. You could feel the true passion & love this master has for the making of Kokeshi Dolls.
DAY 2 - Mogami-Kyo Area & Ginzan Onsen Town
Mogami River Boar Ride
The best way to experience the truly gorgeous Mogami River Valley for yourself is to take a trip on the Mogami River Boat. On this trip, the boatman will sing you a traditional river song, and you will be able to spend approximately an hour taking in all the sights as you make your way down the river.
After we attended and experienced the 'Mogami River Boat Ride' we made our way to a little town called 'Dewa Sanzan' which is where we explore the beautiful surrounding rainforest/woods which is where we came upon the absolutely breathtaking five story high Pagoda on Mount Haguro called 'Haguro-San Shrine'. The hike to get to this shrine will take your breath away with a bunch of little huts and bridges along the track!
Haguro-San Mountain is a gently sloping mountain with an elevation of 414 meters, and lies between the Haraigawa River to the west and the Tachiyazawagawa River to the east.

Among the three Dewa mountains, the Shrines on Gassan and Yudono are far removed from civilization, and difficult to make pilgrimages to in winter due to the deep snows.
Because of this, at the summit of Hagurosan Mountain, Dewa Shrine was built as a great village shrine for Gassan and Yudonosan Mountains. This shrine has a magnificent temple to the gods of the three mountains and serves as the main shrine of the area.
From long ago, the main shrine flourished as a focal point for the "Haguro Shugendo" type of asceticism, and pilgrims still visit the area year-round.
Ginzan Onsen is a secluded hot spring town nestled in the mountains of Yamagata Prefecture. The area originally developed around a silver mine; however, these days it is better known as one of Japan's prettiest onsen towns with historic ryokan lined up along the river.
DAY 3 - Zao Onsen Snowboarding/Skiing & Snow Monsters
This photograph (on the top row right image) I am sharing with you was captured at Zao Onsen Mountain & Ski Resort where the iconic "Snow Monsters" sit tall. ("Snow Monsters" are trees collecting thick, juicy layers of snow and ice.)
On this night tour we had a total of 5 minutes, YES YOU HEARD RIGHT, 5 minutes to capture the snow monsters in it's true form Mind you it was -25 degrees on the mountain range.
Unfortunately we were unlucky with the weather a day prior to this night tour which had heavy winds and rain in the snow monster area which washed away those thick, juicy layers of snow and ice off the tall perked trees.
Aside the weather, this is what I walked away with and cannot be more happy with the outcome with the amount of time we had.
DAY 4 - Fukushima (KitaKata Area) & Ouchi-Juku Snow Festival
On DAY 4 of our Tohoku trip, we visited and explored the Fukushima Prefecture where we arrived at the KitaKata Area which is where we participated in a Sake Brewery Tour of (Yauemon). This is an old brewery established in the late eighteenth century. They have moved their brewery to outside the city center and the old brewery has now become a shop with a museum displaying sake brewing tools which is where we got to see behind the scenes of how Sake was/is made.
At the Ouchi-juku Snow Festival, many different kinds of events are held around the Former Honjin. Hand-made snow lanterns are displayed in front of each house. In the evening, candles in white lanterns are lit and fantastic scenery of Ouchi-juku can be seen.
LOCATION: Ouchi, Shimogo-machi, Minamiaizu District, Fukushima Prefecture.
DATE: 2nd Saturday and Sunday of February of every year.
WEBSITE: http://ouchi-juku.com/index.php?English
ACCESS: By car: Around 1 hour from Shirakawa Exit on the Tohoku Expressway, or from Aizu Wakamatsu Exit on the Ban-etsu Expressway. By train: Around 15 min by car from Yunokami-Onsen Station on the Aizu Line.
DAY 5 (final day) - Aizu Wakamatsu Area
Unfortunately it was our fifth day of the Tohoku trip which was an end of our tour. Luckily we got to experience and visualise some of the most spectacular architectures and history I have ever experienced in my life!
First stop was 'Aizu Bukeyashiki' which is a samurai residence (会津武家屋敷, Aizu Bukeyashiki) served as the quarters of the region's most important and highest ranked samurai, as well as his family, employees, and servants. The original complex was burnt down during the Boshin War in 1868, but has since been reconstructed and furnished to replicate its appearance in the Edo Period.
Because of the prestige of the samurai and the size of his retinue, the samurai residence is quite expansive. There are dozens of different rooms and sections, including gardens, guest rooms, a tea house, an archery range and a rice mill. Inside many of the rooms there are mannequins of the former inhabitants portraying either typical scenes of daily life or dramatic historical events.
Tsuruga-jo Castle is the symbol of SAMURAI CITY Aizu. Renowned as an impregnable fortress, it lasted for one month against a fierce enemy siege during a civil war at the end of the Edo period (1868-1869). In 1874, at the end of the samurai era, it was torn down, leaving only the stone walls. In response to citizen's wishes, it was later rebuilt in 1965. In 2011, it underwent major refurbishment with its roof tiles replaced with red-colored tiles and was restored to its former glory. Now, as a scenic site for cherry blossoms in spring and foliage in autumn, it offers visitors a place of rest and is a center of Aizu tourism.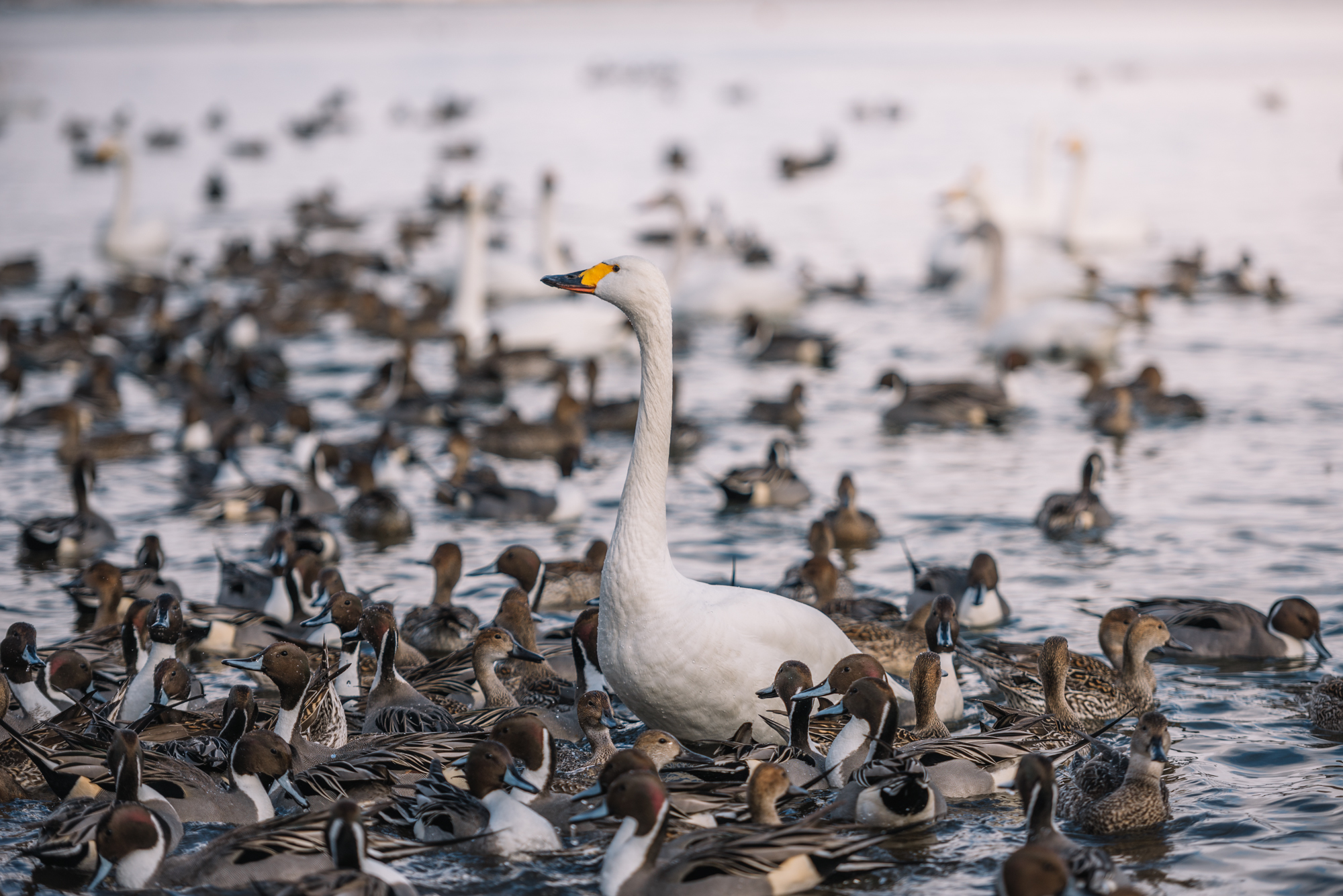 Winter at Lake Inawashiro
When autumn deepens and hear the cry of swans, it's a sign of the winter in Japan. If they fly low enough and there are no other big noise, you can even hear the sound of flapping their strong and wide wings. We will see their ecology and 3 sites we can watch swans closely. It's absolutely gorgeous sight to beheld and heard in winter of Japan.